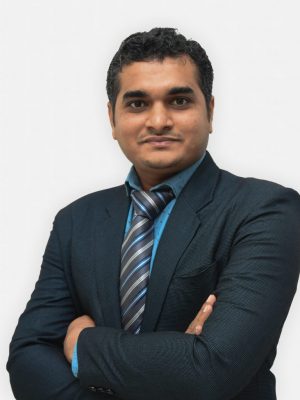 Brief Description:
Dr. Hiren Dungrani is FIRST EXCLUSIVE Oral & maxillofacial surgeon in Bhavnagar city started his practice from 2013. He finished his B.D.S. from MPDC Vadodara, Gujrat in the year 2008, and master in oral surgery from RGUHS, Karnataka in the year 2013. He started his practice with various surgeries of teeth, mouth, jaws, and face, as well as associated structures.
He introduced MOUTH OPENING SURGERY for oral fibrosis cases in the Bhavnagar district.
TRAINING:
He took training in head and neck oncology at aayush cancer hospital, Bhavnagar for 1 year.
He took training of basic and advanced dental implantology like bone regeneration, direct & indirect sinus lift from the various renowned surgeon of India at regular intervals through various short courses.
He is the first surgeon from Bhavnagar who took training of TMJ ARTHROSCOPY in 2019 at Amrita Institute of Medical Science, Kochi in 2019 from world-renowned TMJ arthroscopist Dr. Garry Warburton from the U.S. & Dr. Andrew Sidebottom from the U.K.
EXPERIENCE:
Visiting consultant at Sterling hospital, Bhavnagar from 2013 to 2014.
Visiting consultant at Bajrangdas hospital, Bhavnagar from 2015 to 2019.
Visiting consultant at HCG hospital, Bhavnagar from 2016 to 2019.
 Visiting consultant at the various dental clinic in Bhavnagar for minor oral surgery and dental implant surgery from 2013 to date.
Procedure performed till now:
More than 3500 minor oral & dental surgery.
More than 500 facial & jaw bone fracture surgery.
More than 200 surgeries of tumor of face & jaw.
More than 200 dental implant surgeries.
More than 100 mouths opening surgery in oral fibrosis cases.
Area of expertise are:
Oral fibrosis surgery(lockjaw).
TMJ arthroscopy.
Advanced Dental implant surgery.
He is a member of prestigious bodies. Few of them are
AOMSI- Association of the oral and maxillofacial surgeons of India.
ISTMJS- Indian society of temporomandibular joint surgeons.
ISOI- Indian society of oral implantology.
IDA- Indian dental association.